iPay Bill Payment
Below you will find a few links to the iPay Technologies website where your questions regarding our new bill payment program can be answered. We are excited to offer this product to you and know you will love how easy it is to use and benefit from all the time it can save you every month!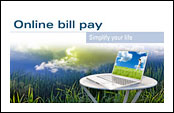 Click on the links below to learn all about iPay Bill Payment!
Going forward, you will notice a Bill Payment tab once you are logged into your Online Banking account. Click that tab and follow the link inside to get started!